Convert HTML web page to image
To convert HTML web page to image, you should input the URL first. There are three ways to open the Add URL(s) dialog:
Click the Add URL(s) button on the toolbar.
Click the menu File -> Add URL(s).
Press the keyboard shortcut: Ctrl + U.
The Add URL(s) opens. Type the URL per line for converting in the edit box. Example:
http://www.acasystes.com
http://en.wikipedia.org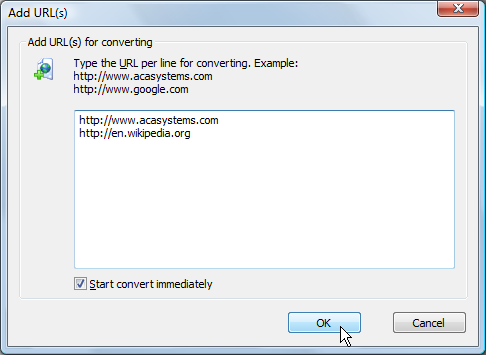 If you want to start convert task immediately, please check the "Start convert immediately" option. If you unchecked this option, you can start the convert task by manual in future.
Click the OK button to close the dialog.
If you checked the "Start convert immediately" option, the convert task will start, the Status column shows Processing: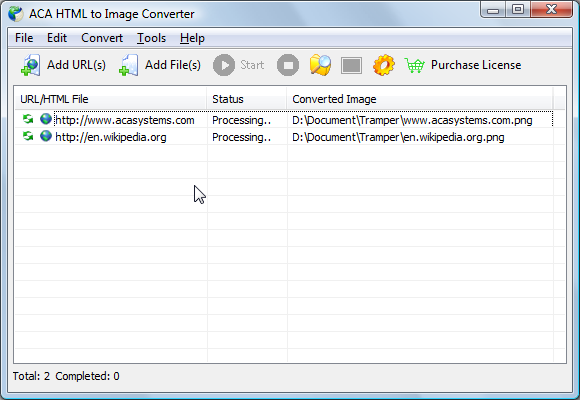 Task Status Stages Descriptions
Listed below are descriptions of what your processing stage really means and what you need to do to reach the next level.
Ready: The task is idle. To start this task, click the Start button.
Processing: The task is processing. You can click the Stop button to cancel the converting.
Completed: The task is completed. You can click the View Image button to open the image by default image viewer.
Waiting: The task is in queue. It will be changed to Processing once other task completed.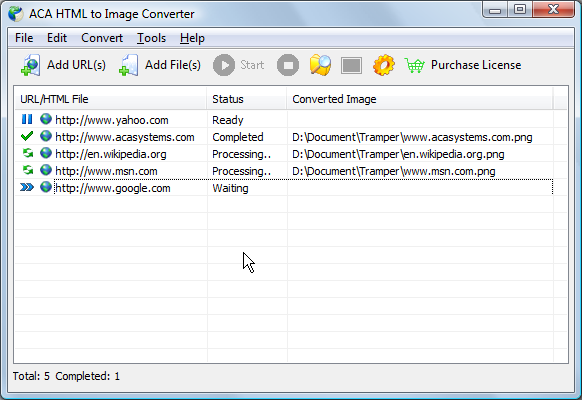 If the task is completed, you can right click the task item, and then click "View Image" to open the image in your default image viewer.